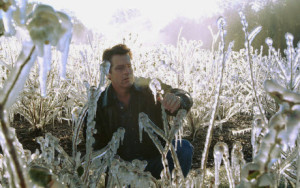 GAINESVILLE, Fla. — For Tori Bradley, learning about cold weather may turn into cold hard cash for Florida blueberry growers.
Bradley, a University of Florida College of Agricultural and Life Sciences graduate student, interned with faculty to develop cold-weather protection strategies so blueberry growers can save money.
As part of her UF/IFAS Research internship, Bradley studied the economic advantages for growers who use precision cold protection, according to a new UF/IFAS Extension document. Bradley studied the differences between precision cold protection and uniform cold protection. Blueberries bloom in late winter or early spring in Florida, making them susceptible to frosts. For uniform strategy, growers start frost protection irrigation when the temperature hovers between 31 and 35 degrees.
By using the precision method, growers can save an average of $44 per acre per season on irrigation pumping costs, depending on their location in Florida, according to Bradley and her faculty mentors.  (read more)   Source www.LabManager.com